THERMOBILE SB80
Waste Oil Heater SB80 306,000 BTU Automatic Ignition
306,000 BTU / 90KW gross (270,000 BTU / 78KW net)
Save on workshop heating costs by using waste oils produced on your business premises as FREE heating fuel. The capital cost of the SB80 heater can typically be paid back within 1 ½ seasons, resulting in large savings in future.

This waste oil heater can burn used oil (synthetic or mineral) from petrol or diesel engines, gearboxes, transmissions and hydraulic systems. In addition, the heater can burn waste oil mixed with diesel, or diesel only. (The following should never be used; solvents, thinners, transformer oil, petrol, petro-chemical based oils, or oils above SAE90).

Note: the SB range of automatic ignition heaters require a compressed air supply when burning waste oil.
● Overheat thermostat prevents unit from overheating
● Flame failure protection switches off heater if ignition problems arise
● Automatic burner with fuel pre-heating (on used oil)
● Temperature can be thermostatically controlled by optional digital thermostat/timer
● When heating, fan only runs when heater is up to temperature
● Fan can be used in summertime for ventilation purposes
● Clean, soot free combustion
● Minimum service and maintenance
DISCONTINUED BY THERMOBILE
NO EQUIVALENT CURRENTLY AVAILABLE
CLICK HERE TO SEE NEW BIOFUEL HEATERS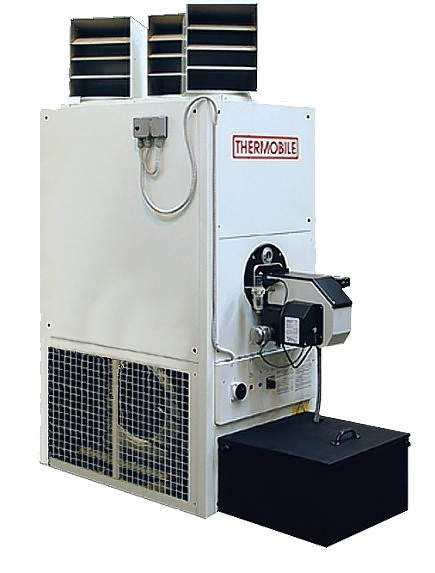 ● Automatic Ignition Waste Oil Heater
● Electricity Supply : 400V +N
● Net Heat Output BTU : 270,000 BTU/hr (actual maximum will depend on type of waste oil used)
● Heated Air Flow : 6200 cubic metres/hour
● Fuel Consumption : 9 litres/hr
● Fuel Tank Capacity : 130 litres
● Dimensions : 760 W x 1660 D x 2175 H
Thermobile waste oil heaters are backed by 50 years experience in the development and manufacture of space heaters, ensuring a reliable product which will give full customer satisfaction.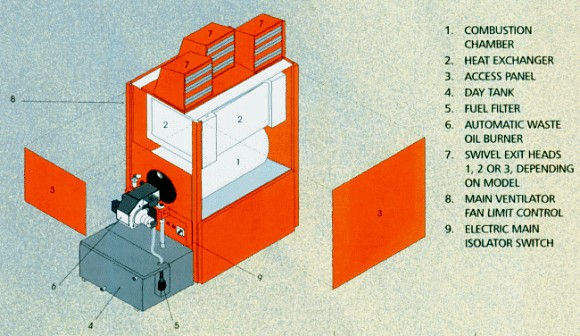 Burning of waste oil is regulated. See more information.

For SWOB (Small Waste Oil Burners up to 0.4MW) permit application:-
● Manufacturer: Thermobile
● Model: SB80
● Burner Type : Atomising
● Net Rated Thermal Input : 0.088MW / 300,000BTU / 88KW

heater product code : R096.6007

OPTIONAL ACCESSORIES
digital thermostat/timer : R018.3105
complete flue kit : R018.3005
1000mm flue pipe : R018.3063
500mm flue pipe : R018.3064
flue 45 degree bend : R018.3068