FINANCE AVAILABLE (£1000 minimum)
Automatic Ignition Waste Oil Heater
If you own a garage and produce waste oil such as engine, gearbox or hydraulic oils, then you can save money on your heating bill by burning this used oil as free heating fuel. As it is classified as hazardous waste there is legislation in place to control incineration of waste oil. A permit for a SWOB can be obtained from your local council. Legislation recently changed in England and Wales and permit fees for waste oil heaters are large. Similar regulations for premises in Scotland and N. Ireland have been in operation for a number of years. However, waste oil heaters can be used without permits if burning other non-hazardous fuels. Thermobile waste oil heaters can legally operate without permits using the following alternative fuels :- 35 sec Heating Oil, Diesel, Processed Fuel Oil (PFO), and Bio Oils including Rapeseed Oil and Linseed Oil, plus certain refined Vegetable Oils.
see WASTE OIL HEATER REGULATIONS

see HEATER SIZE CALCULATION
---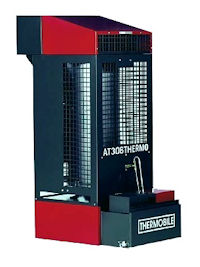 ---
Waste Oil Heater Guide
About the manufacturer - Thermobile
The company headquarters are based in The Netherlands. Thermobile have been developing and manufacturing space heaters for over 50 years, distinguishing themselves by the reliabilty and durabilty of their top quality products.
What are these appliances called ?
Some manufacturers call them burners, some call them heaters. But they are just different names for the same. They all burn waste oil to produce heat. Since regulations changed, manufacturers now also use terms like Universal Oil heater and Multi-fuel heater.
What does the abbreviation SWOB mean ?
For the purposes of UK regulations they are called Small Waste Oil Burners (SWOBs) and "Waste Oil Burners, less than 0.4 MW net rated thermal input".
For permit application, what type of burner do I have ?
The automatic ignition heaters on this page all have atomising burners. Oil is pre-heated before being pumped through a jet into the combustion chamber, with the assistance of compressed air.
Can ducting be fitted to distribute my heat ?
These automatic ignition waste heaters have powerful fans to distribute heat through directional nozzles. If required it is possible to adapt for hot air ducting.
What fuels can be used in my appliance ?
Hazardous Waste :- Used oils produced on your own premises, including waste engine, gearbox or hydraulic oils.
Non-Hazardous Waste :- Processed Fuel Oil (PFO) which is recycled oil, red diesel, 35 sec Heating Oil, and Bio Oils including Rapeseed Oil and Linseed Oil, plus certain refined Vegetable Oils.
DO NOT include paint thinners or petrol !