Coolmobile 25 Air Conditioner, 7.32KW cooling
Large Mobile Commercial Air Conditioner
The central air-conditioning system has suddenly broken down.
You are working intensively with a heat source.
The room housing the computer servers and backup equipment is getting a little too hot for comfort.
The summer weather is making things hot and humid indoors.
The space you work in has no built-in climate control system... there are plenty of situations in which you, your staff or sensitive equipment could definitely do with some cooling down.
The only question is: how do you make that happen on short notice?
Simply wheel the Coolmobile® - the world's most mobile air-cooling system, after all - into the room.
Plug it into the wall socket. No drainage required. Dial in the desired temperature and aim the flexible tubes.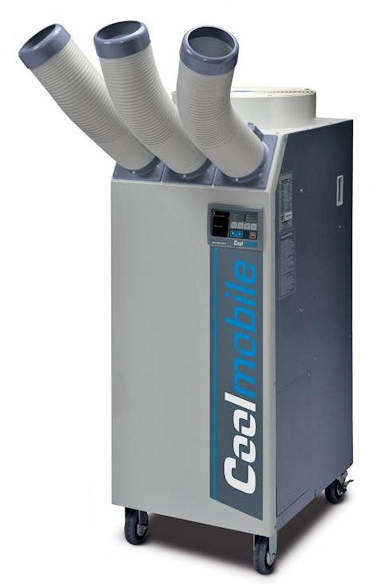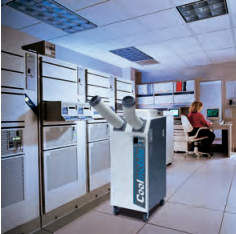 ● Easy to move: The Coolmobile® comes standard with smooth 4" wheels. This allows you to wheel the machine easily from and to the desired room or space. The special Wheellocks ensure the cooler remains firmly in place.
● Everything under control: The special Digital Climate Control system allows you to set the Coolmobile® to any temperature between 1°C and 31°C, with an accuracy of a single degree! The system is fitted with a useful timer, switches off automatically and can operate autonomously.
● Directional cooling: The Coolmobile® is equipped with flexible tubes, in order to ensure that the powerful stream of cool air ends up exactly where you want it. The tubes can also be lengthened with flexible tubing of up to 3 meters each, up to a maximum length of 9-12 meters.
● Various positions: The Airflow Control system allows you to control the amount of cool air in three steps.
● Sophisticated collection tank: With the Coolmobile®, you do not need a drainage system for condensation water. This water is water collected in a large internal receiving tank. The digital monitoring system will send a warning signal and switch off the system as soon as the tank is full.
● Automatic Ventilator: The ventilator will rotate faster as the temperature of the outgoing air increases.
● Optional discharge hose: The ventilation fan can be fitted with a discharge hose to remove the air out of the building or to an existing exhaust system.
● Air filtration: Aluminum filter grilles with built in carbon filters ensure all air passing through the Coolmobile® is filtered automatically.
● Manufacturer: Thermobile
● Model: Coolmobile 25
● Cooling capacity: 25,000 BTU/hr
● KW: 7.3
● Air flow m/s: 10.5 - 8.5
● Starting current A: 57
● Running current A: 13
● Power Consumption: 2.6KW
● Air filter: Aluminium and Carbon
● Max. static pressure: 30mm WG
● T °C: 10 - 15
● Groundsurface: 58 m2
● Dimensions: 490 x 600 x 1303mm
● Weight: 90kg
● Outlet: 3 x 125mm
● Max ducts length: 12m
● Power cord: 3m
air conditioner product code : R087.0011