ERP AS20DY diesel compressor
Diesel Air Compressor, 20 cfm, 10 bar, 150 Litres, 4.7HP Yanmar
An industrial duty diesel engine air compressor built in the UK by ERP. A Yanmar diesel engine is combined with a high efficiency pump with a deep finned cast iron cylinder. These stationary air compressors are for permanent installation indoors. Not to be used outdoors.
The Outdoor Noise Directive 2000/14/EC regulates the noise emissions into the environment by outdoor equipment. Small Diesel Engine Driven Air Compressors are generally unable to meet the requirements of this directive meaning that they are not to be used outdoors, or on mobile plant, trucks or vans. However they are allowed to be installed as permanently fixed plant.
This compressor should be installed on anti-vibration mounts.

● Manufacturer: ERP
● Model: AS20DY
● Diesel engine driven stationary air compressor
● Cast iron cylinder
● Built in the UK
● Heavy Duty
● Piston Displacement: 20 cfm
● Free Air Delivery (FAD): 13.4 cfm
● Maximum Pressure: 10 bar (150 psi)
● Air Receiver: 150 litres
● Engine: 4.7HP Yanmar diesel
● Recoil Start
● Weight: 95kg
● Dimensions: 1300L x 470W x 1154H
Delivery lead times can vary.

compressor product code : R097.4441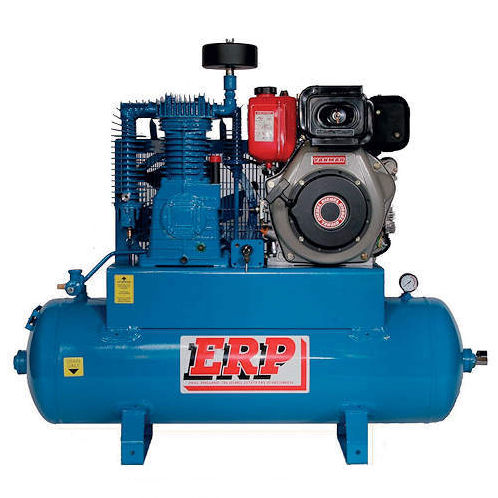 (different model shown above for illustration purposes)